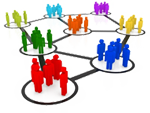 E-Mail Friends
Outdoor Fitness Reading
Outdoor Fitness Reading is run by Peak XV Fitness. Why are Peak XV Fitness the premium outdoor fitness provider in Reading? Not just because they provide great workouts; not just because the bootcampers have such a great time, but because they will help you set your goals, track your progress and design fantastic and fun workouts to get you in the shape of your life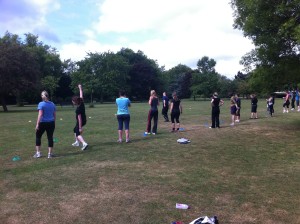 Standing on the scales is the first port of call for most people when they are tracking their weight loss progress. Although measuring your weight is good practice you need to remember the scales only tell you your gravitational pull to the earth in stones, pounds or kilos. This is why Peak XV Fitness Reading Boot Camp will measure your body fat on their bio-electrical impedance device and take your waist circumference and waist to hip ratio. Knowing your body fat percentage is important to assess your risk of disease and chart your weight loss progress, clearly the more overweight or obese you are the more body fat you will have.
What else does Outdoor Fitness Reading provide?
Waist circumference  and waist to hip ratios are two good measures employed by health professionals as a simple and effective tool to identify obesity and disease risk. Research has demonstrated that men with a normal BMI that had a 40 inch waist were twice as likely to die as men with a 34 inch waist and women with a normal BMI that had a 35 inch waist were 79% more likely to die than women with a 29 inch waist. Clearly it's important to get your waist circumference down and we'll help you track this.
 Call Chris Today on 07879 646969.
Next – goal setting is an incredibly powerful tool to aid you in achieving what you want to do in life. On some occasions it is the only way people are able to get what they want done. But conversely, goals can also be pretty useless. For instance, "Maintenance" is not an effective goal.   "Lose weight", slightly better, but still not good enough to be called a goal in the true sense of the word. For a goal to be truly effective and worth the paper you write it on it needs to be a SMART goal. Peak XV Fitness will help you set SMART goals. Once you have gotten used to writing SMART goals next, you have to COMMIT to take ACTION – this means turning up to boot camp.
Claim Your Free Trial Today on 07879 646969
Topic: Outdoor Fitness Reading
Special Offer
Call Us Today
07879 646969
---
Other Pages
---